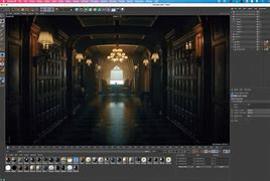 Cinema 4D specializes in software solutions for 3D modeling, animation, simulation and rendering. Its fast, powerful, flexible and robust toolkit makes 3D workflows more accessible and efficient for design, motion graphics, VFX, AR/MR/VR, game development and all types of visual professionals. Cinema 4D delivers great results whether you're working alone or in a team.
WHAT'S NEW?
Cinema 4D 2023 brings the best features to all Cinema 4D users and integrates the technology into the Maxon family. This release offers some of the features most requested by our artists – broad modeling compatibility, direct asset management, and native OCIO support. Simulation Plus gets artist-friendly features and support for soft-body simulations. The latest update from Moves by Maxon makes it even easier to capture facial and body movements. We offer the best of Maxon technology with Maxon One integrations in Redshift, Red Giant, ZBrush and Forger.
IMITATION
With the new Unified Simulation System, you can achieve more realistic simulations that include multiple objects with different simulation properties, such as clothes, ropes, and soft bodies. The unified simulation system allows simulations to be computed on CPU or GPU and is highly multi-threaded, providing improved performance for complex textile simulations.
COMPATIBILITY MODELING
Creating 3D objects has never been easier thanks to an extensive collection of new procedural and interactive modeling tools. Automatically change the topology of any network with ZRemesher. Create entirely new shapes with a set of powerful new interactive modeling tools, many of which can be used systematically through Node Capsules. Advanced spline nodes enable the creation of new capsules, while improved vector import support makes working with Illustrator and SVG graphics even easier.
The creationof a model with symmetry allows reflective pattern changes. Users can define symmetry using a world grid, an object axis, a specific work plane, or even a design topology.
MONITOR FOLDERS IN PROPERTY BROWSER
Performance, dynamic resource management
The Asset Browser provides easy access to a library of preset content stored locally or online, including the largest collection of 3D objects, materials and capsules available to Cinema 4D users. The library is searchable or searchable, and each item includes comprehensive metadata and keywords. Components are downloaded on demand, eliminating the need to pre-download large libraries of components. They are also stored on your local computer, so your favorite items can be reused immediately.
OCIO COLOR MANAGEMENT
OpenColorIO (OCIO) is an open source color management system that allows users to easily manage their color in a predictable and consistent manner at all stages of production. In Cinema 4D, the Academy Color Coding System (ACES) enables content creation without the limitations of small color spaces. If artists have OCIO installed, they can render in ACES in current or future versions of Cinema 4D.
TRANSMITTED BY MAXON
With Moves by Maxon for iPhone and iPad Pro, you can capture facial and full-body measurements and transfer them instantly to Cinema 4D. Whether you want to record your facial expressions or capture your best dance and fighting moves, Moves by Maxon is the ultimate software.
IMPROVED GOZ ZBRUSH INTEGRATION
GoZ
GoZ (for GoZBrush) is a flexible bridge between ZBrush and other 3D packages based on a special file format, the GoZ file. Export your model from ZBrush to any of the supported applications with one click. You can also export your render maps,to edit geometry or add an element to your design. Then send the updated elements back to ZBrush, still with one click! GoZ works with various tools or sub-tools, visible or invisible.
GoZ lets you spend your time working on your design instead of managing your imports and exports
| | |
| --- | --- |
| | 49 5 Rating |